| | |
| --- | --- |
| by Adaco Manufacturing Ltd. - The Irish Stove Manufacturer | |
Introducing the new
Falcon 450si Inset Stove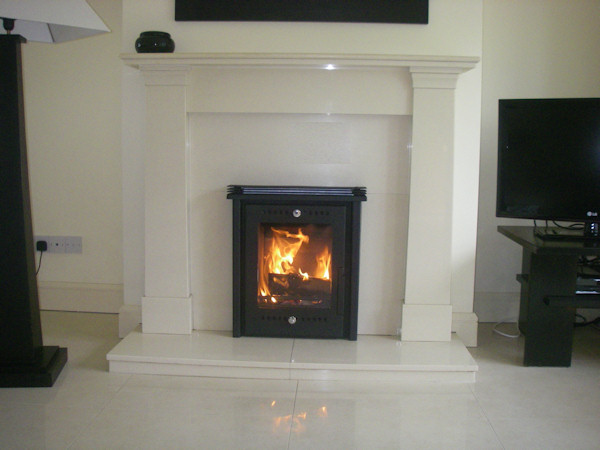 Not all stoves are the same!

Design, detail and efficiency are very often overlooked in endeavours to keep costs down. But not with the Falcon Fires range of Wood Burning Stoves. Its clean looks, low emissions and a superb high efficiency, combined with its many user features, leaves us clear ahead of the opposition.

Whether your taste is for a traditional look or a more clean line contemporary unit The Falcon 450si is always the choice of the discerning customer. The unequalled quality and build detail is obvious in every finish, each joint, and every frame finished by hand and the careful eyes of our experienced build team. In fact, every stove comes with a unique number that identifies all of the product detail and, of course, an identifying number that is proudly embossed by the craftsman who finishes your new stove.

Like all our products the 'Falcon 600i Inset stove' was conceived, designed and manufactured in Ireland. This Inset stove will give a maximum of 7kw heat output to your room, and is designed to fit flush into standard 16" and 18" suitable fireplaces.

Our design team have spent months designing detail into the everyday operation of 'The Falcon 450si range of Wood Stoves'. Everything from a ergonomic flush door handle through to an ability to level the appliance when fitting.

Key Features

Combustion Efficiency - Introduction of tertiary air supply to complete the combustion process within the burn chamber.
Heat Foils - to increase efficiency of convected air
Large High Temperature Glass to allow full viewing.
Textured finish - Matt and gloss, black high temperature finishes on a textured surface to give years of use and good looks.
Burner control - Primary and secondary air controls, air wash to keep the large glass clean during use.
Easy to use ash pan - Balanced with an integrated cover to avoid ash being blown everywhere in our windier weather.
Unique fascia designs that are interchangeable on our combustion chamber, so you can change the look of your stove to suit your changing room style without changing the complete stove.
Will burn all dry fuels including Wood, Peat and Brickets
Coal Burning Kit also available.
Adjustable leveling feet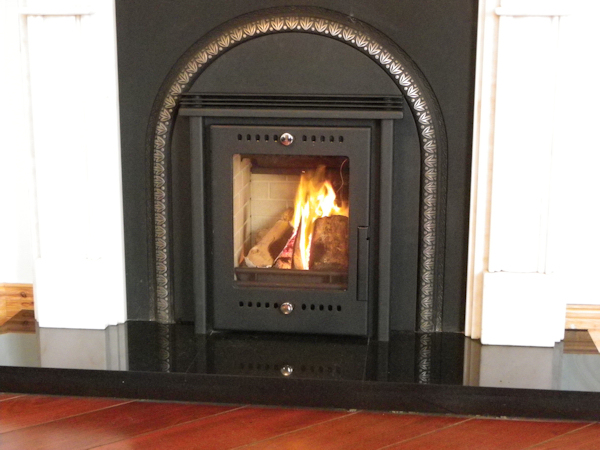 Falcon 450si Multi Fuel Stove Fitted into a 'Horseshoe' Style Cast Iron Fireplace.
Falcon 450si Wood Burning Inset Stove Dimensions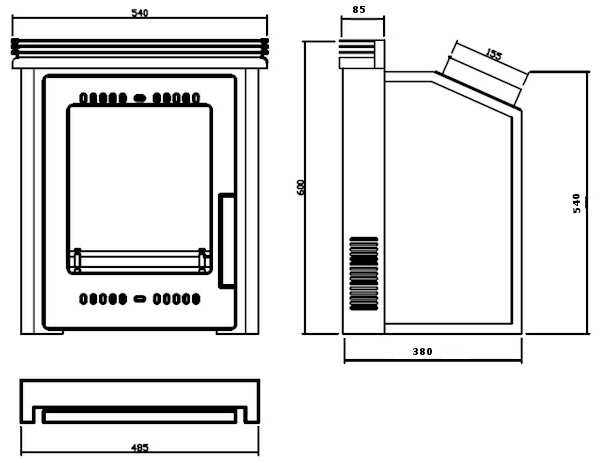 Not alone do Falcon inset stoves have eye catching looks,but the many design hours put into development has been rewarded in a superb efficiency rating. Control over the burn rate allows you to control the heat output, and subsequently the consumption. Two air controls on the front door that help in the lighting up phase and when increasing the temperature, can be switched to keep the glass clean. A tertiary air supply completes the combustion process, bringing efficiency up and emissions down.

In the ash collection area a very usable ash pan,with a balanced fold out handle which allows one handed carrying with an integrated hidden cover,stops ash from being blown everywhere in our windier weather. A large tempered safety glass window allows you to feel and see the comfort of of the appliance. The hidden heat foils increase the convected air efficiency back into your room. A lot of effort has been put into keeping the outside surfaces, particularly the control areas of your stove, as cool as possible so that accidently touches will not result in burns. But as with any well designed appliance, our primary purpose was to produce a stove that works well and is controllable and efficient all without harming our fragile environment. Our design team have spent many months ensuring that you get a durable functional appliance that compliments your home.